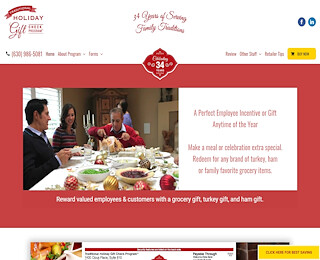 Turkey gift certificates
Gifts are a great way to say thank you to your employees, customers, and everyone that has been part of your success story. It's even more vital to show appreciation in these trying times because everyone is busy trying to stay afloat. Thus, a seemingly little gesture on your part would make them feel valued and forge a special kind of loyalty that would stand the test of time.
Unfortunately, many business owners struggle to come up with the right gift idea for their employees or loyal customers. They spend too much time worrying about how to give the perfect gift while not exceeding their budget. If you are or you've ever been in these shoes, our turkey gift certificates are the answer to your problem. They are redeemable in virtually all grocery stores nationwide, and they convey your heartfelt gratitude, even without a word.
How does your gift check program work?
Our gift certificate for turkeys at Traditional Holiday Gift Check Program have been in circulation for more than three decades. Over that period, we have satisfactorily served thousands of businesses looking to say thanks to their employees or customers or offer assistance to people in need. Business owners have the freedom to choose gift checks of any denomination, up to $50. These turkey coupons are redeemable at virtually all grocery stores in the country, making our program one of the best out there. The recipient may use the check to purchase any brand of turkey, ham, or other grocery items.
Are your turkey gift cards customizable?
Yes. All our turkey gift certificates are fully customizable. You can add your company's branding materials such as logo and signature, and you can also include a personal message that tells the recipient how much they are valued. However, it's vital to note that you cannot customize a gift check with the recipient's name. Retailers prefer to have their name written in the 'pay to the order of' line as this facilitates a smooth transaction. The recipient would do this when they're about to redeem the gift check. Moreover, keeping the line blank protects your check if there's an unforeseen circumstance such as employee turnover.
How long will it take to get my gift checks?
If you're using our standard free shipping option, processing and shipping your order usually takes 5 to 10 days. We recommend that customers place their orders in advance of the date they want it delivered to avoid unnecessary rush at both ends. When placing your order, you should also provide the specific date that you would like to receive your gift check.
Customers that need express delivery can place their order and make payment online. Online orders are serviced within 24 hours of the business day and shipped overnight.
Contact us for your turkey gift certificates?
Do you want to put a smile on the face of your employees and customers without exceeding your budget? Our gift vouchers for turkeys are second to none. We have been in the gift check business for more than three decades, and we have helped bring smiles to the faces of tens of thousands. Contact Traditional Holiday Gift Check Program at (630) 986-5081, and we'll be glad to discuss how we can help.